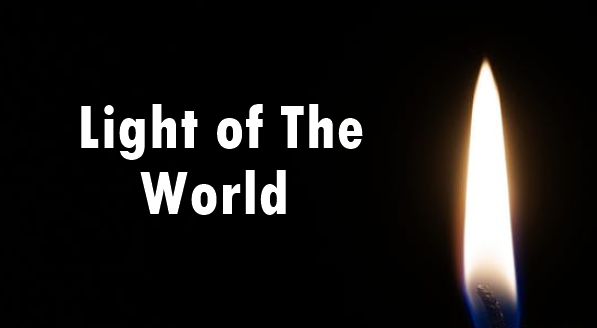 ---
Advent Cry is supported by your prayers and donations. Your contributions are well appreciated. Thank you.
The Bible tells us in Genesis that in the beginning there was darkness and the earth was without form and void. Not only that but sin had entered this world and has caused the mind and hearts of men to become darkened, wicked and cruel.
However, there is only one who can wipe away this darkness, get rid of sin and enlighten the world and mankind. We will go in scripture now to answer the question about who is this One that is the light of the world.
What is light?
Ans: According to the Merriam Websters dictionary, it is something that makes vision possible.
What is this light that the Bible speaks of that makes vision possible?
(Psalms 119:105) "Thy word is a lamp unto my feet, and a light unto my path."
Ans: The word is the light unto my path
What Word brings this light?
(John 1:1,4 & 5) "1 In the beginning was the Word, and the Word was with God, and the Word was God. 4 In him was life, and the life was the light of men. 5 And the light shineth in darkness; and the darkness comprehended it not."
Ans: The Word that was in the beginning with God and was God.
Now if we continue down to verse 14 of John 1, we will see that the Word that is the light became flesh and dwelled amongst men.
Who is the light that became flesh and lived amongst men?
(John 1:29) "The next day John seeth Jesus coming unto him, and saith, Behold the Lamb of God, which taketh away the sin of the world."
(John 8:12) "Then spake Jesus again unto them, saying, I am the light of the world: he that followeth me shall not walk in darkness, but shall have the light of life."
Ans: The light that became flesh amongst mankind is Jesus Christ
"They determined that they would not receive Jesus of Nazareth as the Messiah. They rejected the Light of the world, and thenceforth their lives were surrounded with darkness as the darkness of midnight." (Christ Object Lesson, page 295, par.3)
We clearly can pinpoint that the light of this world is Jesus Christ who came to Earth as a sacrifice for mankind yet we rejected the Holy One.